My history of computing - from a School Teacher
I can clearly remember the day in the early 80s, when I must have been about 6 or 7, and I saw my first computer. It was at the house of friends who has called me and my parents over to see their new purchase, a ZX Spectrum.

It was running Jet Set Willy. I remember being amazed at being able to control something like this on the TV. Yes we'd had Grandstand TV games machine before, but that was black and white and you could just move the paddle up and down. This was something quite different. The colours were bright, there was music and, the thing that sticks in my mind the most, was that some of the monsters chasing you were toilets. Very funny to a 7 year old mind. I soon discovered that this was not all it did. We were able to type programs into it. We could make it say things like 'Spectrums are skill' by typing in a simple program. We could control the TV.

Up until then my childhood had been rather stuck in the countryside of the 40s, (even though it was the 80s) ,climbing trees and making go carts from orange boxes and pram wheels. Now it was the future and it was brightly coloured and noisy. I still climbed trees and made go carts, but the future had saved me from boredom on wet afternoons.

One day I came home from school to find a computer of our own on the kitchen table. It was a Dragon 32. I remember it running a game of Othello. I was amazed that at this game you could play against the computer. We embarked on a game, not expecting to win as how could we beat a computer, only to beat it soundly! The Dragon came with a manual containing some programs, amongst other things, to draw pictures. I clearly recall my mother spending hours typing them in.

The computer then ended up in my room, it having little practical application for the family business, and was used mainly as a games machine. I spent many hours playing Chuckie Egg. I would also write stories, but I had no way to save or print them, so they would be cleared as soon as the computer went off.

I still played on Roy's Spectrum, as well as Stewart's BBC Micro and Dominic's Commodore 64. (I was a girl in a village of boys).

My school had a BBC Micro, as did most schools, however I rarely got to use it as we had one for the whole school. Other than playing games on them, computers didn't play a big part in my childhood.

When I got to secondary school in 1986 the school had a whole bank of BBC micros and I started to get IT lessons. This involved making Ceefax pages, putting information onto data bases and typing letters on a word processor. I took a GCSE in IT but only managed to get an F.

I was lucky as we had an Amstrad computer at home for my mother to do the accountancy for the family business on. This meant that I was able to type up essays for my GCSEs and 6th form college.

When I went away university, buying a computer was out of the question. So I got an electronic word processor. This had a small screen that could show two lines of text. You could type a whole line, ensure it was spelled correctly before it typed it. It also had a floppy disk drive so I could save files and edit them on the computers at my university.

The next massive change came with the computer I got for my 21st birthday in 1996. This was able to connect to the internet. The internet was very new and exciting. It was also rather expensive as you had to pay the ISP for the connection and the cost of the call. If you were lucky then there was a server in your area so the cost of the call would be a local one. As I lived in Manchester at the time I could dial into the Manchester server. However that was often busy and I would have to call Birmingham instead.
It's only now that I realise what a pioneering thing the internet was then. My email address was just a string of numbers, the browser was CompuServe's Information Manager, which contained Mosaic. As you can see it contained buttons which took you to different types of website. I remember the shopping button contained two shops, Victoria Wine and Thorntons.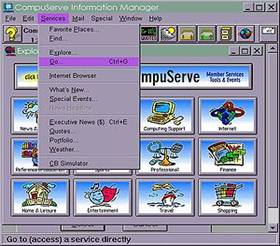 I would talk on chat rooms to people across the world, but mainly in America. I was also able to use the limited information and the fax facility on my 14.4 modem to research my dissertation.

Ever since then having an internet connection has been a priority. I have not been with out a computer since and getting an iBook with Wi-Fi has changed the way I work again.

Last year I trained to be a teacher. Without a computer the task would have been ten times harder.

Within schools the computer is integral to everyday. We no longer have blackboards, but interactive whiteboards (IWB). These are powered by a laptop which is connected to the internet. This means that I can show the class films, websites and pictures which I can prepare in advance. Much better that the old blackboards.

ICT, as it is now called, is integrated through the curriculum. Just about every subject can have some use of ICT with in it. All schools now have a bank of computers as well as laptops. I try to get children to use computers in school as often as I can. The problem is that the children I teach today will most likely do jobs that don't yet exist on technology yet to be invented. How do I know what to teach them. Currently I am teaching them to use Excel but will that prove to be as useless as my days spent programming Ceefax pages?

The other problem I foresee is that children know don't know how computers work. They have never written a program that makes the words of their choosing scroll up the screen. Rather like I have no idea how the internal combustion engine works, yet I still drive a car; computer users are becoming more reliant on the handful of people who do understand what goes on 'under the hood'. The internet is something that is just there. It is all seeing and all knowing. For example I know of a child who created a fictional super hero and then couldn't understand why he didn't have a page on the internet.
The children I teach were born in 1999, when I had been using the internet for 4 years and computers for even longer, yet they still tell me how to work them. They think that us adults don't know anything about computers yet little do they realise that we were the pioneers.

I am glad that I live in 'the computer age', my job is easier and information had never been so accessible; yet I am glad to have also seen some of the time before the internet, e-mail and the inescapable mobile phone.

Kate Exton February 2009