Computing Books written by A.J Jones, E.A Coley, D.G.J Cole
The following is a list of Computing Books written by A.J Jones, E.A Coley, D.G.J Cole in the Centre for Computing History collection. It is not an exhaustive list of and other books may have been published. If you have a book that you would like to donate to our collection, please view our donations page.
There are
1
Computing Books written by A.J Jones, E.A Coley, D.G.J Cole in our collection :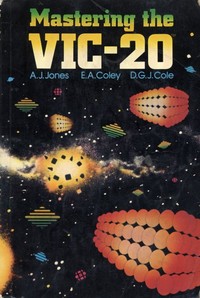 Date: Unknown
Mastering the VIC-20
This book is a machine-specific introduction to microcomputers based on the VIC-20, designed to supplement the booklet provided with the machine. It offers a wealth of intresting programs can be supplied separately on tape or disk, or entered by the reader.

After a comprehensive study of BASIC and VIC-20 structure, the reader is introduced to machine code programming using the VICMON assembler. A unique feature is the quality and quantity of programs contained in the book, which are used to illustrate classic problems arising in programming, and show how solutions can emerge quite naturally. Several of the longer programs are commercial in their own right. These include MINISYN, setting up the VIC as a two-octave keyboard instrument wirg sustain and colour display: PONTOON, an excellent card game used to illustrate shuffle routines, card displays and program logic; and STARSHIP, as classic star trek game, which will be particularly popular and appealing. There are also innumerable tables and diagrams.

Hi-resolution graphics in BASIC and Machines Code and explained in detail. Routines for saving a Hi-resolution screen to disk or tape are given, together with a BASIC program which will output a Hi-resolution screen to the VIC-1515 printer.

Author: A.J Jones, E.A Coley, D.G.J Cole
Platform: Commodore Vic 20