Computing Books written by Don Thorpe
The following is a list of Computing Books written by Don Thorpe in the Centre for Computing History collection. It is not an exhaustive list of and other books may have been published. If you have a book that you would like to donate to our collection, please view our donations page.
There are
1
Computing Books written by Don Thorpe in our collection :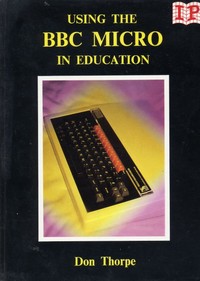 Date: May 1984
Using the BBC Micro in Education
The BBC Micro is an immensely powerful computer. And its potential for assisting in education is enormous. But the means of tapping that potential are not immediately obvious.
In this detailed work, experienced teacher Don Thorpe discusses the role the BBC Microcomputer could occupy in your teaching activities. He compare its possibilities with those of other, more traditional, teaching aids, and outline specific areas of application in which the computer has no rival.
Publisher: Interface Publications
Author: Don Thorpe
Platform: BBC Micro