Computing Books written by J.E. Cooling
The following is a list of Computing Books written by J.E. Cooling in the Centre for Computing History collection. It is not an exhaustive list of and other books may have been published. If you have a book that you would like to donate to our collection, please view our donations page.
There are
1
Computing Books written by J.E. Cooling in our collection :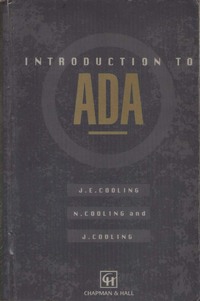 Date: May 1993
Introduction to ADA
by J.E. Cooling
Paperback: 624 pages
Publisher: Chapman & Hall (27 May 1993)
Language English
ISBN-10: 0412448106
ISBN-13: 978-0412448102
Product Dimensions: 22.9 x 15.5 x 3 cm


An introduction to Ada; elementary arithmetic and logic; program flow control; subprograms in Ada - procedures and functions; types revisited; number crunching in Ada; modular construction; information hiding and the package; composite data types; dynamic data types - access types; information hiding; data abstraction and private types; exception handling; generics; data types - one last time; concurrency - tasks; concurrency - the rendezvous; low-level and run-time issues; the bits that have to go somewhere; Appendices: syntax diagrams; predefined language attributes; predefined language pragmas; "Standard" package; "System" package; "Text 10" package; "Direct 10" package; "Sequential 10" package; reserved words.

Author: J.E. Cooling
Platform: ADA