Computing Books written by Robert X. Cringely
The following is a list of Computing Books written by Robert X. Cringely in the Centre for Computing History collection. It is not an exhaustive list of and other books may have been published. If you have a book that you would like to donate to our collection, please view our donations page.
There are
1
Computing Books written by Robert X. Cringely in our collection :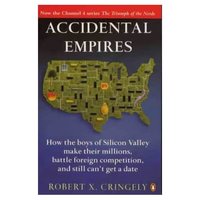 Date: 1996
Accidental Empires: How the Boys of Silicon Valley Make Their Millions
Accidental Empires: How the Boys of Silicon Valley Make Their Millions, Battle Foreign Competition and Still Can't Get a Date
by Robert X. Cringely
Paperback: 358 pages
Publisher: Penguin Books Ltd
Reprinted 1996
Language English
ISBN-10: 0140258264
ISBN-13: 978-0140258264
Product Dimensions: 19.2 x 12.8 x 2.8 cm

Amazon.co.uk Review
Robert X. Cringely manages to capture the contradictions and everyday insanity of computer industry empire building, while at the same time chipping away sardonically at the PR campaigns that have built up some very common business people into the household gods of geekdom. Despite some chuckles at the expense of all things nerdy, white and male in the computer industry, Cringely somehow manages to balance the humour with a genuine appreciation of both the technical and strategic accomplishments of these industry luminaries. Whether you're a hard-boiled Silicon Valley marketing exec fishing for an IPO or just a plain old reader with an interest in business history and anecdotal storytelling, there's something to enjoy here.

In his new conclusion, Cringely looks at the likely near-future of the PC industry, arguing that most of the major companies are facing a need to dramatically reformulate their mission in the light of engineering developments already in the works. He offers a new paradigm for the development of the industry as it moves from its early "start up" phase into a more mature, more competitive era. --Jake Bond

Product Description
This work looks at the business of computing in the US, as computer science, as a business, and as a collection of extraordinary and eccentric characters. After automobiles, energy production, and illegal drugs, personal computers are one of the largest manufacturing industries in the world, and one of the great success stories for American business. This book is linked to a Channel 4 television series entitled "The Triumph of the Nerds".
Publisher: Penguin Books
Author: Robert X. Cringely
Platform: silicon valley