Computing Books published by Boots
The following is a list of Computing Books published by Boots in the Centre for Computing History collection. It is not an exhaustive list of and other books may have been published. If you have a book that you would like to donate to our collection, please view our donations page.
There are
3
Computing Books published by Boots in our collection :
Date: 1st January 1983
Boots Guide to the ZX Spectrum
A Fast, No-Nonsense Guide to
The ZX Spectrum
Today, everyone needs hands-on experience of computers. The Spectrum now brings personal computing within the reach of everybody, but learning quickly how to get the best from your machine can be difficult. This book makes it easy. It shows you, the beginner, how to make a good start, avoiding all the unnecessary theory but providing so many useful and varied program illustrations so that all the family can enjoy exploring the facilities of this remarkable Micro.
This book also shows you how to design and write your own programs from scratch. Finally it sets out an original game for you to enjoy and a practical database program to help you organise your home and business life.
Soon you will be talking to your computer like a family friend and wondering how you managed before!
Publisher: Boots
Author: Ian Sinclair
Platform: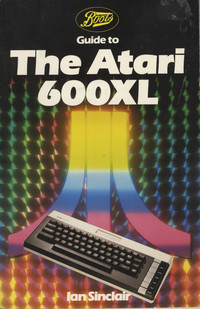 Date: 1984
Guide to the Atari 600XL
Boots guide.

"This book makes it easy for you to get the best out of your machine. It shows you how to get rapid results, avoiding all the unnecessary theory, but providing lots of illustrative and varied program examples to make learning a pleasure."

Publisher: Boots
Author: Ian Sinclair
Platform: Atari 600XL
Date: 1983
Guide to The Dragon 32
by Ian Sinclair
Boots. 1983.
Soft cover 126 pages
Publisher: Boots

Platform: Dragon 32