Computing Books published by Cambridge Learning Enterprises
The following is a list of Computing Books published by Cambridge Learning Enterprises in the Centre for Computing History collection. It is not an exhaustive list of and other books may have been published. If you have a book that you would like to donate to our collection, please view our donations page.
There are
2
Computing Books published by Cambridge Learning Enterprises in our collection :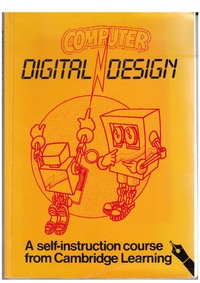 Date: 1982
Computer Digital Design - A self-instruction course from Cambridge Learning
This book, published in 1982, explains how computers work from the very basics to much more advanced topics. It begins by explaining when numbers and counting first became vital for human civilisation - when agriculture was first developed - before moving on to the computer's ability to manage these numbers. By the end of the book, specific languages and components are discussed.
The book was written with contributions from Ian Williamson, a trustee of the Centre for Computing History and the donor of this item.
Publisher: Cambridge Learning Enterprises
Author: Ian Williamson
Platform:
Date: 1972
The Algorithm Writer's Guide
This book on algorithms was published in 1972. It provides insight into the use of algorithms in the early 1970s computer market, when computers were still largely scientific devices used only by experts, but were also just beginning to be used as everyday work devices.
From the preface:
'Until now, writings on algorithms have been either for the specialist, who wants to know the latest research, or for the beginner, who needs to understand how algorithms work and what use they can be to him.
This book fills the gao. Its subject is how to write algorithms. It ranges widely over many forms and techniques, always with the aim in mind of providing the designer of algorithms with the knowledge he needs.
It is illustrated with many examples, very few of which have ever been used before in any publication on algorithms. Several of the methods discussed have been developed recently in the course of consultancy work and are published here for the first time.'
Publisher: Cambridge Learning Enterprises
Author: D.M. Wheatley, A.W. Unwin
Platform: