Computing Books published by Fourth Estate
The following is a list of Computing Books published by Fourth Estate in the Centre for Computing History collection. It is not an exhaustive list of and other books may have been published. If you have a book that you would like to donate to our collection, please view our donations page.
There are
2
Computing Books published by Fourth Estate in our collection :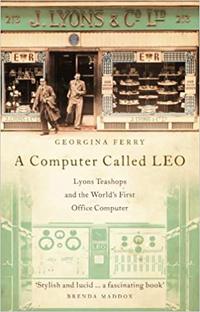 Date: 2003
A Computer Called LEO
The eccentric story of one of the most bizarre marriages in the history of British business: the invention of the world's first office computer and the Lyons Teashop.

"LEO and its creators deserve their place in history not because of what it was, but because of what it did. For LEO was the first computer in the world to be harnessed to the task of running a business." - Georgina Ferry.
Published: 2003.
#OBJECT=50681#
A paperback edition was published in 2005, by Harper Perennial.
Georgina Ferry Transcripts:
Georgina Ferry has donated the unedited transcripts of the people she interviewed for her book, A Computer called LEO, to the Heritage Project of the LEO Computers Society. The following interviewees are included: Anthony Salmon, Maurice Wilkes, David Wheeler, Murray Laver, David Caminer, John Pinkerton, Ernest Kaye, Ray Shaw, Derek Hemy, Peter Hermon, John Aris, Mary Coombs, Ralph Land, Frank Land (incomplete first half of transcript lost).
Publisher: Fourth Estate
Author: Georgina Ferry
Platform: LEO
Date: 1999
The Code Book
The Science f Secrecy from Ancient Egypt t Quantum Cryptography
Introduction
The cipher of Mary Queen of Scots
Le Chiffre Indéchiffrable
The Mechanism of Secrecy
Cracking the Enigma
The Language Barrier
Alice and Bob Go Public
Pretty Good Privacy
A Quantum Leap into the Future
Publisher: Fourth Estate
Author: Simon singh
Platform: