Computing Books published by Vega
The following is a list of Computing Books published by Vega in the Centre for Computing History collection. It is not an exhaustive list of and other books may have been published. If you have a book that you would like to donate to our collection, please view our donations page.
There are
1
Computing Books published by Vega in our collection :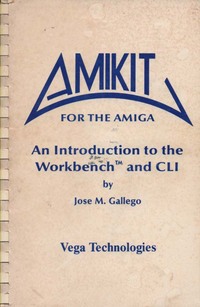 Date: 1988
Amikit for the Amiga An Introduction to the Workbench & CLI
Comb Bound: 163 pages
Publisher: Vega Technologies; 1st ed edition (1988)
ASIN: B0006EQ2PC
AmiKit is a freeware compilation of more than 300 pre-installed Amiga programs. An integrated emulator enables the user to experience this high-end AmigaOS configuration on Windows, Mac OS or Linux systems. An external source of Amiga ROMs and operating system is required, however.
Turns your Windows, Mac or Linux system into high-end Amiga environment
Easy and fully automated installation and un-installation
Automatic Live Updates (no need to re-install everything when new update appears)
Three different working environments: Directory Opus Magellan, Scalos, Workbench
The newest programs (more than 300 included), some of them are exclusive
TrueType fonts, DualPNG icons and 24bit visual themes
Easy and automated installation of various add-ons (games, expert programs, etc.)
Easy and automated installation of the largest collection of OS3.9 patches
Knowledge Base with lots of information
Kindly donated by Thomas Lescoffit
Publisher: Vega

Platform: Amikit Amiga