Apple II Books published by Virgin Books, 1984
The following is a list of Apple II Books published by Virgin Books, 1984 in the Centre for Computing History collection. It is not an exhaustive list of and other books may have been published. If you have a book that you would like to donate to our collection, please view our donations page.
There are
1
Apple II Books published by Virgin Books, 1984 in our collection :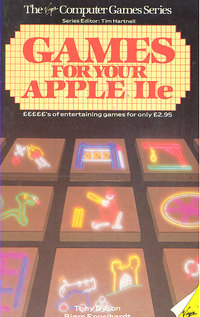 Date: 1984
Games for your Apple IIe
Games for your Apple IIe
The Virgin Computer Games Series
Apple computers have been around a long time, yet there always seem to be new discoveries which can be made about them, There are hundreds of games for the Apple, but still people are interested in new games — games which will provide them with more fun than other games they've played, and games which will show them new programming techniques to apply to their own work. Over the past two years, we've had a lot of fun writing programs for the Apple, and in this book we've brought the results of those two years to you. We hope you will have as much fun playing these games as we have had writing them, and that you'll pick up a few ideas for your own programming and games writing. Whether you want brain-stretching entertainment, or you're more interested in 1 shoot-em-ups', you'll find your interests have been catered for. Have fun!
CONTENTS
Squash'em
Target
Snake
Space Mission
Cannon
X-Linos
Treasure Nim
Duel
Nessie
Howzat
Simon Says
Golf
Phasar
Jackpot
Twenty One
Some Force
Morse Code
Hangman
Sequence Introduction
Doodle
How To Write Better Programs.
Publisher: Virgin Books, 1984
Author: Tony Dyson, Biorn Englehardt