EDSAC Books
The following is a list of EDSAC Books in the Centre for Computing History collection. It is not an exhaustive list of and other books may have been published. If you have a book that you would like to donate to our collection, please view our donations page.
There are
3
EDSAC Books in our collection :
Date: 1956
Automatic Digital Computers.
Automatic Digital Computers.
305 pages, QA76.W5 1956
Author Wilkes, M.V.
Title Automatic digital computers
Publication : Methuen, 1956

Many illustrations and photographs including ENIAC, EDVAC and EDSAC

This book was kindly donated by Peter Salt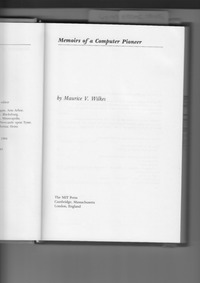 Date: 1985
Memoirs of a Computer Pioneer
In his chapter on EDSAC Maurice Wilkes talks about Lyons, starting with a visit to Cambridge by TRT and others in July 1947, mentioning George Booth, the £3,000 donation and loan of Lenaerts and ending with Lyons' appointment of John Pinkerton, pages 132 - 134.
#OBJECT=50681#
Publisher: MIT Press
Author: Maurice Wilkes
Date: 1st January 1951
The Preparation of Programs for an Electronic Digital Computer (EDSAC Book)
The Preparation of Programs for an Electronic Digital Computer
With Special Reference to the EDSAC and the Use of a Library of Subroutines
by Maurice V. Wilkes, Director of the Mathematical Laboratory of the University of Cambridge
David J. Wheeler and Stanley Gill, 1951
Signature in the front reads K_ Machin (?)