Computing Games written by ACG
The following is a list of Computing Games written by ACG in the Centre for Computing History collection. It is not an exhaustive list of and other games may have been published. If you have any games or software that you would like to donate to our collection, please view our donations page.
There are
2
Computing Games written by ACG in our collection :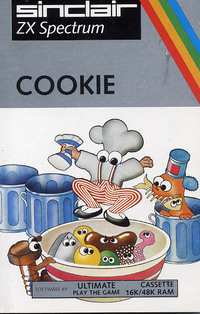 Date: 1983
Cookie (Silver Inlay)
Sinclair Silver version, of Ultimate Play The Games 3rd title, a far rarer and slightly more expensive one to source
Software House: Ultimate Play the Game
Author: ACG
Platform : ZX Spectrum
Date: 1985
Nightshade
Written by Ultimate Play The Game, and the first game using the Filmation 2 graphics engine, this allowed the player to enter buildings, when they did so, the walls would disappear, neat but it would ...