Apple PowerBook Software
The following is a list of Apple PowerBook Software in the Centre for Computing History collection. It is not an exhaustive list of and other software may have been published. If you have any software that you would like to donate to our collection, please view our donations page.
There are
2
Apple PowerBook Software in our collection :
Date: 1992
Connectix PowerBook Utilities 2.0
Connectix PowerBook Utilities (CPU) was a collection of utilities designed to simplify common tasks for Apple PowerBook laptop users: Extends Battery Life Secures Data Prevents LCD Burn-in Flexi ...
Software House : Connectix
Author :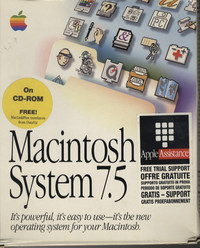 Date: 1994
Mac OS System 7.5
Mac OS System 7, is a graphical user interface-based operating system for Macintosh computers and is part of the classic Mac OS series of operating systems
Software House : Apple
Author :