GEM 1st Word Plus
1st Word and 1st Word Plus were word processors developed by GST Computer Systems in the 1980s. The original package, 1st Word, was given away free with all Atari STs. The later 1st Word Plus was sold by GST and was more advanced.
1st Word first appeared on the Atari ST in 1986. 1st Word Plus version 2.0 credits Mike Bees, Howard Chalkley, Phil Champ, Martin Dickens, Chris Scheybeler, and Alun Gladman.
A PC version was produced (May 1988) that ran using Digital Research's GEM interface. Other versions were produced for the Arthur and RISC OS operating systems for Acorn's ARM-based machines, the Torch XXX, and for Digital Research's Flex OS.
"GEM First Word Plus ($99.50). One of the first word processors for the ST has recently been upgraded. First Word Plus has some excellent features which make it an extremely powerful tool. It allows you to integrate pictures with your text, from drawing programs such as DEGAS Elite and Neochrome, has footnote, hyphenation and justification options, and lets you switch between parallel and serial ports with the click of the mouse. It not only allows multiple rulers in a document, but will let you save rulers to disk for future use. First Word Plus comes with two disks to hold an assortment of accessory programs and data like mail merge, a 40,000 word dictionary that you can personalize, a set of standard printer drivers and a selection of sample files.
The First Word Plus interface is mouse-driven with a few of the commands having corresponding function keys; however, unlike WordWriter ST, most menu bar commands aren't available from the keyboard. This forces you to switch from keyboard to mouse any time you wish to use a feature.
One thing to keep in mind before you purchase this program is that it is only being supported out of England, so if you're on this side of the Atlantic help may not be a phone call away. However, the registration card assures that owners will be given free technical support in response to written queries. Electric Distribution. 8 Green Street, Willingham, Cambridge, CB4 5JA, England.
Our unwrapped copy was kindly donated by Loretta Earle
| | |
| --- | --- |
| Platform : | Amstrad CPC |
| Format : | |
| Publisher : | Gem |
| Date : | May 1988 |
Other Software by Gem :
Information About Gem :
This exhibit has a reference ID of CH9833. Please quote this reference ID in any communication with the Centre for Computing History.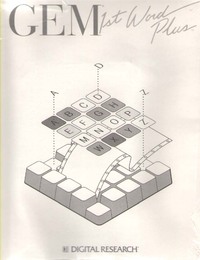 Click on the Images
For Detail