Centre for Computing History Finds Cambridge Home!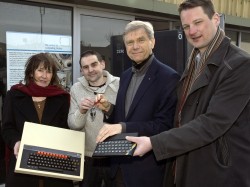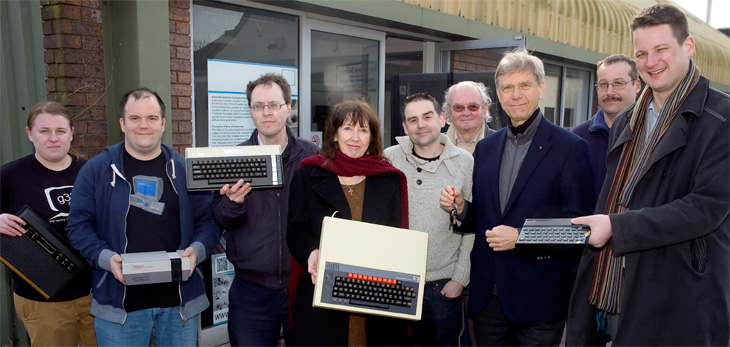 Finally, after two years of searching and negotiation, the Centre for Computing History has found a Cambridge home. This means the city where so many ground breaking technological discoveries and inventions have been made will at last have a dedicated computer museum. Located just off Coldhams Lane, the 10,500 sq ft. building will provide storage as well as display areas. Although there is still a considerable amount of fundraising needed and lot of hard work ahead to transform the exhibition space, the lease has been signed.The Centre's patron Dr Hermann Hauser took formal possession of the keys to the building on Thursday 28 February.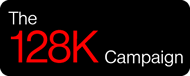 This occasion also marked the launch of a new fund raising campaign to raise the £131,072* needed to bring the building up to sufficient standards to open its doors to the public. It's hoped that this can be achieved by the end of July 2013, in time for the school holiday period.
The centre's move to Cambridge will facilitate the next stage of the project. This will involve the development of both a highly ambitious outreach programme for schools and a multi-dimensional 'computing experience' exhibition, prior to the eventual creation of a permanent, purpose built home in the city.
Dr Hauser said: "We all recognise that computers have transformed the world we live in. To enable coming generations to understand how it has all happened there has never been a more appropriate moment for a museum of this nature here in Cambridge The city is at the heart of the UK's, if not Europe's, leading technology cluster. As such it has played – and continues to play - a vital role in the history of computing. It is only fitting that the Centre for Computing History should be based here."
Jason Fitzpatrick said: "The story of the Information Age and of all the engineers, innovators, inventors and creative visionaries who made it happen is inspirational. Moving to Cambridge, the city where so much of this story has unfolded, will allow all our dreams and ambitions for the Centre to be realised.
"In addition to celebrating Britain's outstanding track record in computing innovation, the centre will showcase computing technology and enterprise in the Cambridge region. It will explore the radical and far-reaching impact of technological discovery and invention to spring from Cambridge University and local companies. We hope to create an experience where young people can truly engage with technology and act as a catalyst for emerging talent."
The campaign to relocate the museum from its temporary home in Suffolk to Cambridge has already attracted substantial sponsorship from a number of individuals and several high profile Cambridge tech businesses, including super-chip designer ARM Holdings, Microsoft Research and award winning Red Gate Software.
Bruno Jansen representing ARM said: "Given our Cambridge background, at ARM we are fully supportive of the foundation of this computer museum in the city."
*
128K was the amount of memory the later
ZX Spectrum
computer had. 1K of memory is 1024 bytes of memory. So 128K is 1024 x 128 = 131,072 bytes, or in our case £131,072 - If you're a geek... you'll know this ;-)
Date : 28-02-2013