Cambridge MP, Daniel Zeichner, gets Physical with Computing and Meets Jnfr the Robot!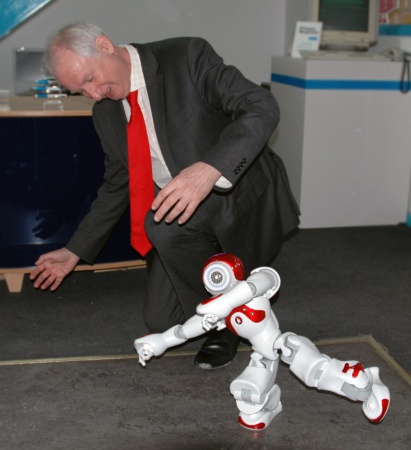 It was great to meet local MP, Daniel Zeichner, who called by on Friday 18 March.

Daniel was given a tour of the collection by Jason Fitzpatrick, the Centre's CEO, during which he received a brief history on key displays, including the machine that is generally regarded as the first home computer - an Altair 8800 - and several iconic computers that were produced in Cambridge in the 80s, such as the BBC Micro and ZX Spectrum.
As Daniel has a programming background, he was very keen to get to grips with some physical computing. Luckily, he was able to join students from Patcham High School who were taking part in a workshop using Raspberry Pi with the Centre's Head of Learning, Dr Anjali Das.

Finally, Daniel just had time to engage in a quick Tai Chi refresher session with the Centre's latest team member - Jnfr the robot.
Daniel said: "It was fascinating to explore the history of computing over the last 50 years through the collection of artefacts and interactive displays at the Centre for Computing History. I'm very grateful to the Centre's learning team for sharing with me their obvious passion, knowledge and expertise.

"I had a great time seeing all the computers I remember working on, learning how to code on a Raspberry Pi and especially meeting Jnfr the robot. The Centre is a fantastic, hidden gem. It must be the city's best kept secret and I'd urge more Cambridge schools to come and make use of this excellent educational resource!"
CEO, Jason Fitzpatrick, said: "We are delighted that Daniel made time in his busy schedule to visit us here. I think he was genuinely surprised by the scope of our educational programme and facilities. It was also great that he spent time with the large school party from Patcham High School in Brighton who were visiting the museum last Friday."

-Ends-

Note to Editors

The Centre for Computing History is an inspirational educational charity (est. 2006) and museum with a collection in excess 24,000 items.
The computing revolution has been responsible for wholesale social and cultural transformation, irreversibly changing our ways of thinking, communicating, organizing, working and playing on a speed and scale unparalleled in human history. Our core purpose is to increase understanding of developments in computing over the past 60 years through exploring the social, cultural and historical impact of the digital revolution. Our aim is to bring this exciting, profound and tumultuous story to life.

We also do lots of unusual 'stuff' – engaging youngsters in fun ways with off-curricula engineering and electronics; designing creative coding workshops; running 'tech tents' at big national events such as the BBC's Make It Digital campaign; evolving the country's most extensive archive on personal computing; and building learning and partnership links with local tech businesses to deliver exciting computing projects in the community – all with the aim of helping people, especially young people, develop the 21st-century skills they need to thrive in the 21st-century workplace.

Since opening in Cambridge in late 2013, over 20,000 visitors, including 10,000 children, have visited the museum, benefited from our workshops, interactive exhibits and informative tours. Through a creative educational programme, the Centre provides the opportunity for children of all ages to encounter, engage and enjoy a diversity of computing experiences.

CCH is currently developing two new Cambridge-related archives: a Sinclair collection and an Acorn collection.

The Centre is open from Wednesday-Sunday, 10am-5pm. It will also be open on the 28th and 29th March and the 4th and 5th of April for the Easter holidays. Admission to the new exhibition is included in our standard entry prices of £8 for adults, £6 for 5-16s, £24 for a family (2 adults and 2 children) and £6 for students and over 60s. Under 5s are free.

For further information or images, please contact:
Elaine Symonds

Tel: 01223 214446
Elaine@computinghistory.org.uk
Date : 21-03-2016