MegaProcessor Arrives and Lights Up for Christmas!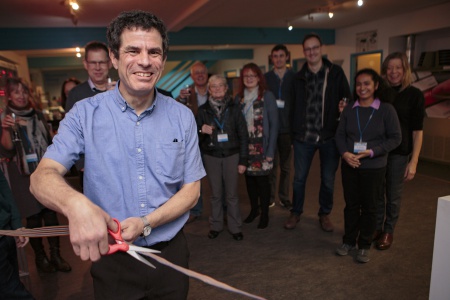 This ground-breaking machine was switched on and handed over to the Centre's trustees at a special ceremony on 24 November. It has flooded the foyer area with thousands of twinkling red LED lights just in time for Christmas!
Building the MegaProcessor has cost its Cambridge creator, James Newman, in excess £40,000 and taken over four years to complete. The MegaProcessor uses over 10,000 LEDs and has well over a quarter of a million solder joints!
As Newman cut through computer ribbon cable in a symbolic gesture to launch MegaProcessor at CCH he remarked: "This all started with me wanting to learn about transistors. Things got out of hand!"
Ever since the earliest days of computing, scientists and engineers have focused on building ever smaller, faster and less expensive machines than the previous generation. Now Newman has ventured in the reverse direction and created a fully functional central processing unit (CPU) built to human scale, with LEDs that light up at every stage of the computational process to show how data moves across a CPU as it executes a program.
Newman said: "Computers are quite opaque. Looking at them, it's impossible to see how they work. What I wanted to do was get inside and see what's going on. Trouble is we can't shrink down small enough to walk inside a silicon chip. But we can go the other way; we can build the thing big enough that we can walk inside it. Not only that we can also put LEDs on everything so we can actually see the data moving and the logic happening."
Centre Director, Jason Fitzpatrick said: "We are overwhelmed by James' generosity in donating this fantastic Goliath of a machine to the Centre. It's the best Christmas present ever! The MegaProcessor is absolutely unique. There's nothing else quite like it in the world. As such, it has already attracted a lot of international attention.
"For example, we're engaged in talks with the Heinz Nixdorff Computer Museum in Germany and hope to work with staff there in the future to develop ways of sharing this invaluable learning resource."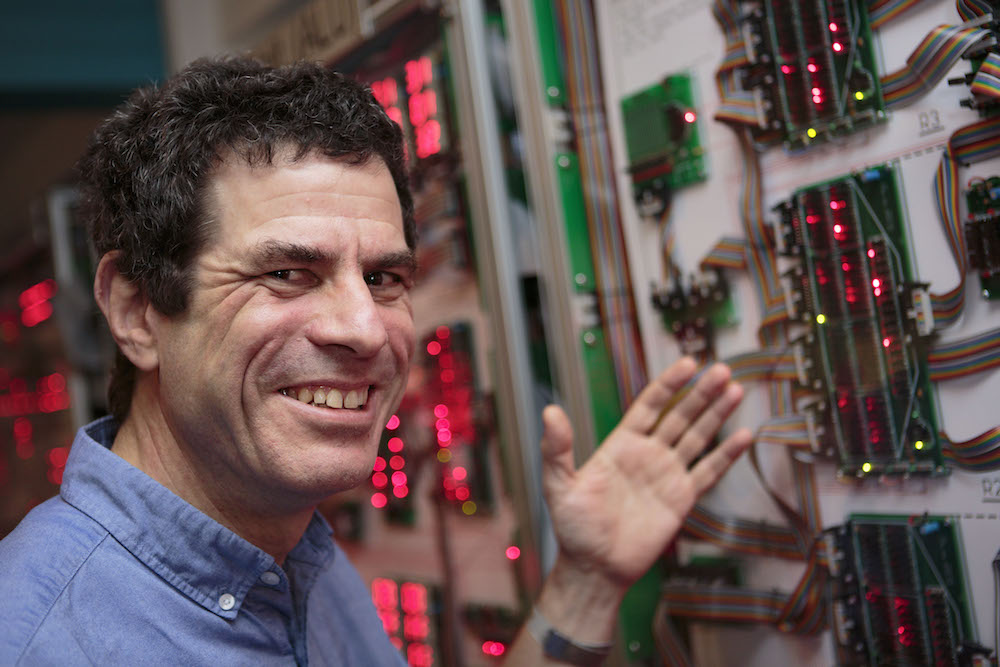 Head of Learning at the Centre, Anjali Das added: "The MegaProcessor, with all its modules visible at such a large scale, can be used as a perfect tool to explain how computers work. This demonstration can be limited to visually describing how data flows from one module to the other at an elementary level to suit primary school children. Or, we can talk about the processor in more detail at machine level for older and more advanced students. Our learning team is in the process of putting together a scheme of work that will make the MegaProcessor accessible to children of all ages and Key Stages."
Jason Fitzpatrick said: "Getting the MegaProcessor to CCH has been a mammoth challenge. The logistics looked insurmountable at one point. That the machine is here, up and running is largely down to James' incredible expertise, skills and patience during the commissioning process and the sheer hard work and passion of two of our volunteers - Bryan Davies and Chris Monk. Thank you guys!"


-Ends-
The Centre for Computing History
Established in 2006 and based in Cambridge, the Centre for Computing History is a charitable heritage organisation with learning at its heart.
The Centre's core purpose is to increase understanding of developments in computing over the past 60 years by exploring the social, cultural and historical impact of the Information Age. The fast-paced nature of the computing industry, along with its tendency to discard old technology as soon as it becomes outdated, means that the heritage around its origins and development is at risk of being lost. CCH aims to preserve this fundamental part of the UK's heritage and it has an internationally significant collection of vintage computers, memorabilia, documents and an inspiring collection of interactive artefacts.
The heritage is particularly valuable because computers have transformed the world we live in – computing has been responsible for wholesale social and cultural transformation on a speed and scale unparalleled in human history. Innovations in home computing have irreversibly changed our ways of thinking, communicating, organising, working and playing.
Much more than a museum, it hosts hands-on exhibitions, learning workshops – it has pioneered the teaching of coding and electronics to both primary and secondary schoolchildren - and a wide range of events to make the history of personal computing relevant and fun for all ages.

For further information please contact:
Elaine Symonds
Email: Elaine@computinghistory.org.uk

Tel: 01223 214446
Date : 25-11-2016