Our Volunteers Win Key Awards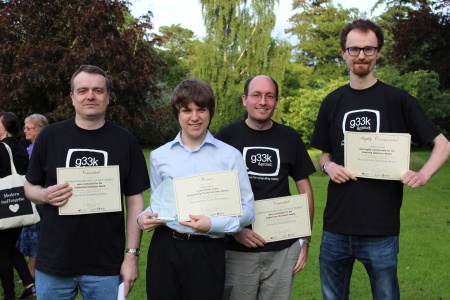 Forget the Oscars, the BAFTAs and the BRIT Awards, the glitziest night of the year took place on the 8th June with the third annual SHARE Museums East Volunteer Awards.
It turned out to be a very special evening for one of our younger volunteers, Sam Doye, who has volunteered with us since 2014. Eighteen year old Sam, who is off to study electronic engineering at the University of Southampton this September, won the Outstanding Young Volunteer Award 2017. This award is specifically for volunteers under the age of 25 who have excelled in any of the categories or who have achieved something else exceptional.

Centre CEO, Jason Fitzpatrick said: "I am so proud of all our volunteers and especially Sam! I could scarcely contain my delight when his name was called at the ceremony. Sam's work - with his electronics skills, helping to rig up new displays and fixing broken devices - has been outstanding. We've also been really pleased to see how much he's developed personally in three years as a volunteer."
The Centre went on to enjoy further success with Chris Monk, a member of our learning team, being Highly Commended in the Learning Volunteer Award.

Jason Fitzpatrick said: "Chris has helped us to revamp our education programme and rebuild the learning section of the website, as well as so many other things. His enthusiasm for developing and delivering engaging learning activities has been an inspiration!"
"Our volunteers keep the Centre's heart beating with their energy and enthusiasm! We are incredibly fortunate to have a strong team. I would like to congratulate all those who were nominated for an award this year."
In addition to Chris and Sam, two further CCH volunteers were nominated for awards. Adrian Page-Mitchell and Philip Searle were nominated as Collections Champions.
The SHARE Museums East Awards recognise the immense input volunteers make to the region's museums, both large and small. This year's ceremony was hosted by the Museum of East Anglian Life at Stowmarket in Suffolk.

You can find out more about volunteering with the Centre for Computing History here

-Ends-

SHARE Museums East
SHARE Museums East is the Museum Development Programme for the East of England. It is funded by Arts Council England. SHARE is managed by Norfolk Museums Service and delivered in collaboration with county Museum Development Officers and other stakeholders across the region.

Centre for Computing History (CCH)
The Centre for Computing History is a charitable heritage organisation with learning at its heart. Much more than a museum, it hosts hands-on exhibitions, workshops and a wide range of events to make the history of computing relevant and fun for all ages.

Since opening in Cambridge in August 2013, the Centre for Computing History has made a powerful impact on the educational and cultural life of Britain. We've been growing fast and today around 20,000 people a year visit to take part in our learning activities or have fun interacting with the machines in the exhibition spaces.

CCH is currently developing two new Cambridge-related archives: a Sinclair collection and an Acorn collection.
For further information please contact: Elaine Symonds
Email: Elaine@computinghistory.org.uk
Tel: 01223 214446 M: 0733179293
Date : 14-06-2017