New exhibition gives women a voice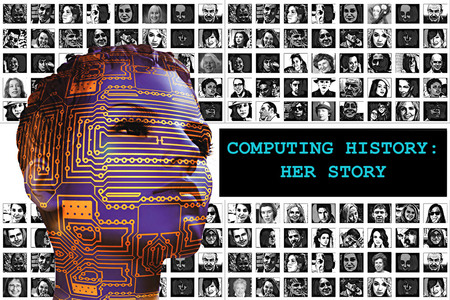 A festival of Women in Computing opens on September 24th at the Centre for Computing History. Entitled Computing History: Her Story, the festival will present a timely and fascinating picture of women who work in the tech industries.
With a subtitle of Real Women, Real Stories, the festival celebrates some of the many women currently working in tech (broadly defined), by offering them a forum for telling their own stories.We have offered space to women to give them a voice - real women tell their own stories in their own words using text, video and audio media.
By highlighting the achievements of tech women, and the range of roles women have in the sector, this exhibition will inspire the tech women of the future.
This three week-long celebration is supported by a programme of exciting events linked to the past, present and future of women in tech. The range of activities includes everything from theatrical performances to film screenings as well as specific events for young people and teachers.
The exhibition runs from September 24th to October 14th 2018. The related programme of events opens with a launch party for contributors on September 26th followed by a display and workshop at the Family STEAM Festival at Spinney School, Cambridge on September 29th.
October 3rd and 4th are dedicated to young people who are coming to the centre to be entertained and to be inspired by a whole host of female mentors from local tech companies. For our Ada Lovelace Day event on October 10th writer and activist Suw Charman-Anderson (Founder of Ada Lovelace Day) will be chairing a panel debate – Give IT a Go – which will focus on issues around how women can get in, stay in and return to careers in tech.
Other events include a Twilight event for teachers on 11th October, where local teachers can get together to discuss how the gender gap in tech starts at school, and a film screening of Bombshell: The Hedy Lamarr Story on October 13th. The film documents how American actress Hedy Lamarr was both a beautiful Hollywood icon and a serial inventor in the 1940s. A discussion after the film will look at role models and the controversy that still seems to surround Hedy Lamarr. Can a beautiful woman have it all?
Computing History: Her Story runs from 24 September to 14 October and follows on from last year's successful festival, Computing History: Where Did All the Women Go?, which looked predominately at the past by spotlighting female luminaries in computing history. The festival has been kindly supported by Sagentia and Cambridge Assessment.
The exhibition can be enjoyed as part of standard entry to the museum but booking is essential for the events. Details of all events can be found on our Events page.
Notes to Editors
Ada Lovelace Day (ALD) was founded by Suw Charman-Anderson in 2009 and aims to raise the profile of women in science, technology, engineering and maths by encouraging people around the world to talk about the women whose work they admire. This international day of celebration helps people learn about the achievements of women in STEM, inspiring others and creating new role models for young and old alike.
The inspiration for Ada Lovelace Day came from psychologist Penelope Lockwood, who carried out a study which found that women need to see female role models more than men need to see male role models.The Computing History: Her Story festival shines a light on role models from the past and the present in the hope of inspiring the tech women of the future.
Bonbshell: The Hedy Lamarr Story is the hitherto little known tale of the world's most beautiful woman in the 1940s, who was also a technological trailblazer. Weaving interviews and clips with never-before-heard audio tapes of Hedy speaking on the record about her incredible life—from her beginnings as an Austrian Jewish emigre to her scandalous nude scene in the 1933 film Ecstasy to her glittering Hollywood life to her ground-breaking, but completely uncredited inventions to her latter years when she became a recluse, impoverished and almost forgotten—Bombshell: The Hedy Lamarr Story brings to light the story of an unusual and accomplished woman, spurned as too beautiful to be smart, but a role model to this day.
Centre for Computing History Established in 2006, the Centre for Computing History is a charitable heritage organisation with a strong focus on learning. Since opening in Cambridge in August 2013, the Centre has made a deep impact on the educational and cultural life of Britain. Through interactive displays and exhibitions, our schools programme, learning events and workshops, and an astonishing collection of computers old and new, we help people understand how tech has shaped the modern world and revolutionised the way we live, work and play.
Date : 18-09-2018