Retro Gaming Events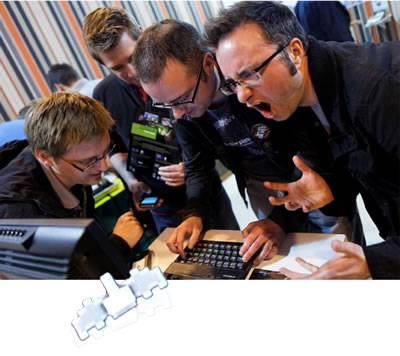 The Centre for Computing History has a fantastic collection of fully functional retro computers and vintage games consoles that are surplus to our core collection. These are available for hire. Our gaming team can bring and set up these unique, working items at your event to add an exciting and nostalgic touch as well as that all important and elusive 'WOW' factor.
Our retro events service is ideal for company anniversary celebrations, Christmas events, social clubs, team building days and other social occasions. So why not offer your guests a nostalgic trip down memory lane playing Pac-Man or Space Invaders on an orginal games console, or even Pong on an authentic 1970's television?
Our proven track record includes the '
Gadget Hall of Fame
' feature - for the past four years - at the Gadget Show Live event and a retro exhibition covering 40 years of technology at the Open University's 40th anniversary celebrations.
Clients range from Kurt Geiger to Microsoft Research.
We have everthing you need to make your corporate event a fun and truly memorable occasion. Whether you need a single games console or 50 retro computers we can help. Call 0844 357 5100 for details...
"We have allocated some space for a repeat of the feature and we would love to work with you again. As the most popular of all the feature areas at the show (it got an average 92% approval rating) it would be great to expand the feature and offer visitors more classic gadgets to reminisce over and provide a bit more room on the stand to allow everyone a fair chance to get on and have a look around."


Matt Hodgins - Upper Street Events (Gadget Show Live)

Click on the PDF icon to view our
brochure ...
Our Clients Include

For more information and to discuss your specific requirements, please call us on 0844 357 5100 or email
jason@computinghistory.org.uk