Computing Books written by Francis Kinsman
The following is a list of Computing Books written by Francis Kinsman in the Centre for Computing History collection. It is not an exhaustive list of and other books may have been published. If you have a book that you would like to donate to our collection, please view our donations page.
There are
1
Computing Books written by Francis Kinsman in our collection :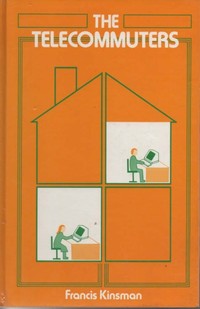 Date: 1987
The Telecommuters
The Telecommuters by Francis Kinsman
Published 1987 by Wiley
In 2009, much software is developed by people working from home or as a collaborative effort between people in different parts of the globe. In 1987, home working was a novelty instituted by people who wanted to enable parents of young children to divide their time more easily between work and home life.
Teleworking has been in operation for twenty five years but it is only recently, through improved communication and more accurate information systems that this way of working has become a possibility for many people. This book looks at the technological, social and organizational trends that have made this possible and, through the use of case studies, examines the advantages and disadvantages of working in this way. In particular it focuses on two of the organisations to pioneer teleworking - ICL and F International.

Hardback
ISBN 0-471-01789-3
This book was kindly donated by Alan Wills

Author: Francis Kinsman
Platform: teleworking