Learning Resources
Programming
Want to get a start with programming? This is a good place to start! Here are some small introductory booklets and lessons we've produces to help you on your way to becoming a master programmer. Just download one which you find interesting and get started! There are no requirements other than having a PC.
Build your own Website
Websites are a part of every day life now, but how are they made? With this guide, we will show you how you can get started with making your very own website.
Download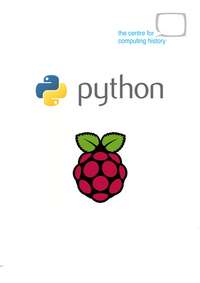 Introduction to Python with Raspberry-Pi
Python is a great place to start if you're keen to get programming. It is flexible, runs on loads of devices like the Raspberry Pi and can be incredibly powerful.
Download
History
These are the some of the learning resources used during the Viva Computer! Festival in July 2016. Each week of the festival had a theme and there is online material for each one, via Hstry (a collaborative website for creating learning resources). The materials have Viva Computer! interviews embedded within them so they're a great way of bringing computing history to life. Teachers – feel free to use with your students. We'd love to hear how you use them so don't hesitate to let us know how they worked for you.