Computing Books written by Tilly Blyth
The following is a list of Computing Books written by Tilly Blyth in the Centre for Computing History collection. It is not an exhaustive list of and other books may have been published. If you have a book that you would like to donate to our collection, please view our donations page.
There are
1
Computing Books written by Tilly Blyth in our collection :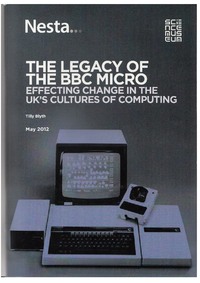 Date: May 2012
The Legacy of the BBC Micro - Effecting Change in the UK's Cultures of Computing
This report from May 2012 examines the legacy of the BBC Micro and the Computer Literacy Project (which the BBC Micro accompanied). It also discusses what lessons can be learned from the project, how those could be applied at the time of publication (May 2012), and whether a second 'Computer Literacy Project' is needed.
The report is authored by Dr Tilly Blyth, Keeper of Technologies and Engineering at the Science Museum, and was published by Nesta, a UK charity focused on innovation in business, technology and more.
Publisher: Nesta
Author: Tilly Blyth
Platform: BBC Micro