Computing Books written by Zvonimir Racic
The following is a list of Computing Books written by Zvonimir Racic in the Centre for Computing History collection. It is not an exhaustive list of and other books may have been published. If you have a book that you would like to donate to our collection, please view our donations page.
There are
1
Computing Books written by Zvonimir Racic in our collection :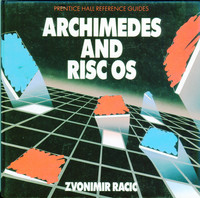 Date:
Archimedes and Risc OS
This Prentice Hall Reference Guide explains in detail the ACORN Archimedes computer, its architecture, custom chips and processor bus. It also describes the new 32 bit RISC (Reduced Instruction Set Computer) based operating system as used in this computer.

FEATURES

RISC Commands
MOS Utilities
File System Administration
Systems Tools
Programmer Tools
Sprites
Sound
System Status
The Reference Guide concept was developed by the authors using their experience and needs as end uders. The spiral binding ensures the book will remain open at the chosen page, and dividers, printed on both sides, make section location easier. The novice and expereined user of Archimedes and RISC OS will find this Reference Guide an indispensable resource.

Publisher: Prentice Hall
Author: Zvonimir Racic
Platform: