Computing Books written by Roger Amos
The following is a list of Computing Books written by Roger Amos in the Centre for Computing History collection. It is not an exhaustive list of and other books may have been published. If you have a book that you would like to donate to our collection, please view our donations page.
There are
3
Computing Books written by Roger Amos in our collection :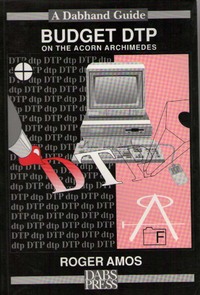 Date: January 1992
Budget DTP on the Acorn Archimedes
A Dabhand Guide
First Edition
Publisher: Dabs Press
Author: Roger Amos
Platform:
Date: 1993
ArtWorks Made Easy
"Within a few months of its launch ArtWorks has won widespread acceptance amongst users of Acorn 32-bit computers...This book is intended for the newcomer to ArtWorks. It takes the reader step by step through the many features and dreaws attention to the principal differences from the Draw application supplied with RISC OS"

Publisher: Dabs Press
Author: Roger Amos
Platform: Acorn RISC OS
Date: 1993
Graphics on the ARM Machines
First Edition
ID Numbers
Open Library OL12070359M
OCLC/WorldCat 29223218
Publisher: DABS Press
Author: Roger Amos
Platform: