Dragon 32 Books published by Sigma
The following is a list of Dragon 32 Books published by Sigma in the Centre for Computing History collection. It is not an exhaustive list of and other books may have been published. If you have a book that you would like to donate to our collection, please view our donations page.
There are
1
Dragon 32 Books published by Sigma in our collection :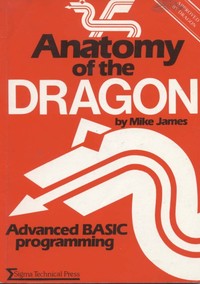 Date: 1983
Anatomy Of The Dragon
ANATOMY OF THE DRAGON...by Mike James..(Sigma).6.95.
1983
Dragon Data Approved.
This book is for anyone wanting to know how their Dragon works and how to control it from BASIC. It describes the Dragon's hardware and software from the point of view of a BASIC programmer. It introduces a number of new graphics modes, and explains how GET and PUT can be used to create user- defined graphics, shows how to disable the BREAK key and a great deal more.
Publisher: Sigma
Author: Mike James