Sega Mega Drive Books
The following is a list of Sega Mega Drive Books in the Centre for Computing History collection. It is not an exhaustive list of and other books may have been published. If you have a book that you would like to donate to our collection, please view our donations page.
There are
1
Sega Mega Drive Books in our collection :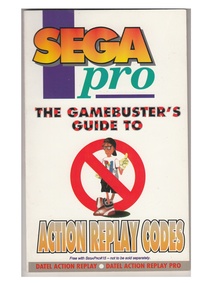 Date: 1992
The Gamebuster's Guide to Action Replay Codes
This guide was published with SegaPro Issue #15. It lists cheat codes for the Action Replay device on the Sega Mega Drive, and instructions for the reader to make their own cheats. The Action Replay cartridge was used to change the contents of memory in the console during gameplay, allowing players to give themselves infinite lives, increased scores, or to introduce other variables.
Publisher: Paragon Publishing