Transputer Books
The following is a list of Transputer Books in the Centre for Computing History collection. It is not an exhaustive list of and other books may have been published. If you have a book that you would like to donate to our collection, please view our donations page.
There are
2
Transputer Books in our collection :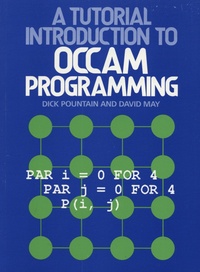 Date: 11st March 1988
A Tutorial Introduction to Occam Programming
There is an increasing trand towards parallel computing both in business and in the scientific and engineering fields. Occam is rapidly being seen as an effective solution to the problem of programming concurrent ystems of all kinds, and as a powerful tool for describing convurrent algorithms.
The aim of the book is to introduce the reader to concurrent programming using the occam language. Ir provides examples of occam programming and discusses the novel concepts which occam employes. The second half of the book provides a formal description of the occam language.
The authors:
Dick Pountain is UK Contributing Editor to BYTE magazine. he is ex-Managing Director of Personal Computer World and Soft magazines. he is the author of a previous book on object-oriented programming in FORTH.
David May is Transputer architecture manager at INMOS Bristol Microprocessor Development Centre, UK. He has been responsible for designing occam and developing the Transputer architecture.
Publisher: BSP Professional Books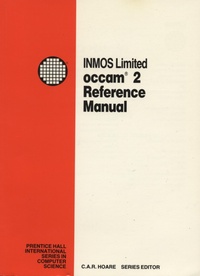 Date: Unknown
INMOS Limited occam 2 Reference Manual
The occam 2 Reference Manual is designed as a single reference, and definition of the language occam. The manual describes each aspect of the language, starting with the most primitive components of an occam program, and moving on to cover the whole language in detail. The manual addresses the computer scientist, software engineer, programmer, electronics engineer, and system designer.
INMOS document number: 72 occ 45 02
Publisher: Prentice Hall