Visor Peripheral
The following is a list of Visor Peripheral in the Centre for Computing History collection. It is not an exhaustive list of and other peripherals may have been produced. If you have any hardware that you would like to donate to our collection, please view our donations page.
There are
2
Visor Peripheral in our collection :
Date: 2000
Eye Module 2 Digital Camera for the Handspring Visor Handheld
"Getting started with the eyemodule2 is as simple as sliding it into your Springboard expansion slot, pointing the lens at the subject, and pressing the capture button - that's it! no batteries requ ...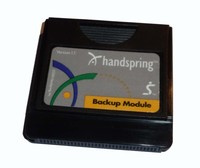 Date: 2000
Handspring Backup Module
Handspring Backup Module version 1
Manufacturer : Handspring