One of the First Raspberry Pi Computers Donated to Museum
One of the first 10 Raspberry Pi computers to be released has been purchased on Ebay and donated to The Centre for Computing History by an anonymous donor.
10 of the eagerly awaited $25 computers were listed on Ebay for auction and enthusiastic bidders around the world bid frantically for the rare opportunity to own one of these first production boards. The auction for board #7 ended on 8th January at a final bid of £989 which obviously included free delivery!

Jason Fitzpatrick, Director of the museum, said "We are really pleased and quite taken aback at this generous donation. We are extremely supportive of the Raspberry Pi project and feel that it could usher in a new era for computing, allowing potential programmers to 'get to the bits' and who knows, maybe create the next big thing!


We will be purchasing a number of the (somewhat cheaper) Raspberry Pi's to take out for school visits and help promote the programming in schools initiative - something we very strongly believe in.
"
Eben Upton, Director of the Raspberry Pi Foundation said "
We are amazed by the level of support, and are extremely honoured to see Raspberry Pi alongside machines from the long and storied history of UK computing, including those that some of our trustees learned to program on as children.
"
The Raspberry Pi is a $25 ARM GNU/Linux box that has a myriad of uses but is generally aimed at the educational market to help bring programming back into the syllabus.
The Raspberry Pi is not typical of an average donation to the museum, most of which are computers dating back to the 60's 70's or 80's, but we are really pleased to have this potentially very important development in computing history as part of the collection. In years to come we may very well be looking at this artifact saying "
and this is the computer that changed everything
" ...
The Idea Behind Raspberry Pi
The idea behind a tiny and cheap computer for kids came in 2006, when Eben Upton was lecturing and working in admissions at Cambridge University. Eben had noticed a distinct drop in the skills levels of the A Level students applying to read Computer Science in each academic year when he came to interview them. From a situation in the 1990s where most of the kids applying were coming to interview as hobbyist programmers, the landscape in the 2000s was very different; a typical applicant now had experience only with web design, and sometimes not even with that. Fewer people were applying to the course every year. Something had changed the way kids were interacting with computers.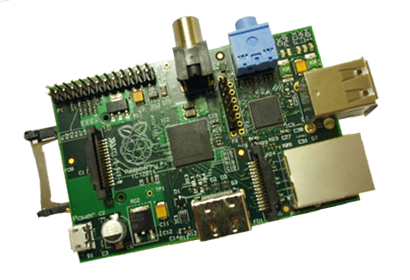 Eben and colleagues from the university like Rob Mullins and Alan Mycroft (both now trustees of the Raspberry Pi Foundation) batted around ideas about what had happened in schools to cause this change. A number of problems were identified: the colonisation of the ICT curriculum with lessons on using Word and Excel, or writing webpages; the end of the dot-com boom; and the rise of the home PC and games console to replace the
Commodore Amiga
s,
BBC Micro
s,
ZX Spectrum
and
Commodore 64
machines that people of an earlier generation learned to program on.
By 2008, processors designed for mobile devices were becoming more affordable, and powerful enough to provide excellent multimedia (a Raspberry Pi can play Blu-Ray-quality video), a feature they felt makes the board desirable to kids who aren't initially interested in a raw programming device. The project started to look very realisable. Eben came together with a group of friends and old colleagues with a wide-ranging group of skills, some of whom were already wrestling with the problem of what to do about producing new young programmers. These people became the Raspberry Pi board of trustees: David Braben, a star game designer and Cambridgeshire entrepreneur with a book of contacts as long as your arm; Jack Lang, a local academic and business angel who worked on the original BBC Micro project; Pete Lomas, MD of a hardware design and manufacture company where their earliest boards had been designed and built; and Professor Alan Mycroft and Dr Rob Mullins from the Cambridge University Computer Lab, who has provided a lot of the educational direction of the project.
Three years later the first Beta version 'Model B' boards are available on Ebay and the world of computing prepares for a sea change ...
Date : 09-01-2012