Programming Wows Secondary School Students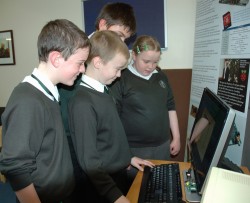 Students at the Meridian School, Royston, Hertfordshire, recently experienced a Centre for Computing History Activity Day. We hope they enjoyed the day as much as we did.
The programme kicked off with Y9 students exploring the Dawn of the Home Computer Industry. They were surprised to discover the important role two Cambridge companies -
Acorn Computers
and Sinclair Research - played in this story. And were even more intrigued to hear how Acorn's legacy, ARM Holdings, is still based in Cambridge and whose micro-processors can be found in 98% of the world's mobile phones.
During this session, students were encouraged to reflect critically on the influence of ICT on their own and others' lives, consider the social, economic, political and moral impact of computer technology e.g. changes to working practices, the economic impact of e-commerce, the implications of personal information gathered, held and exchanged using ICT.
In a second activity, students were introduced to straightforward programming using BASIC (Beginners All-Purpose Symbolic Instruction Code) on working
BBC Micro
s. This, as always, proved to be a highly popular session.
"So, what do you think of programming?" we asked. "Fun!" was the unanimous response. This enthusiasm was matched by that of Y 11 and Y10 students who were all writing simple programs by the end of the period.
The Observer's John Naughton recently wrote: "…software is the nearest thing to magic that we've yet invented. It's pure "thought stuff" – which means that it enables ingenious or gifted people to create wonderful things out of thin air. All you need to change the world is imagination, programming ability and access to a cheap PC."
Anyone watching the delight and wonder on the faces of these young students would have to agree and, more importantly, appreciate the real significance of introducing children to programming.

A super Year 12 group joined us late morning. Quickly spotting the Raspberry Pi we had brought along, they threw multiple questions at us about its capabilities and functionality. We were able to demonstrate its flexibility and potential. It was interesting to hear just how many students had pre-ordered the Pi and were awaiting delivery, and how many, after viewing ours said they would be purchasing a model.

Over lunch students from all years swept into the exhibition, clustering around vintage games like Space Invaders, Pacman and Donkey Kong, and the Rasperry Pi.

During the afternoon it was Year 7's time to interact with the

BBC Micro

s and other classic computers on display. "Are you still going to be here tomorrow?" we were asked several times.

Sorry - but you can come and see us in Cambridge very soon!

Finally a group of 'Gifted and Talented' students joined us for the whole 'Computing Experience.'

It was a long day but we had a fabulous time. We were faced with many thoughtful and challenging questions. Our primary aim was to provide a glimpse of the genius, entrepreneurial spirit and innovation that drove the computing industry forward, ultimately spawning today's Information Age.

Secondly, we wanted to provide students with an exciting insight into programming. We believe an understanding of programming helps to promote intellectual progression and the development of problem-solving skills in a way that is applicable to many subjects, and many other areas of life.

We really hope that some of the students we met will be inspired to develop their imaginations and programming skills further. After all these are the entrepreneurs and inventors of tomorrow!

Don't forget, all Mark Zuckerberg needed to launch Facebook was a laptop, his precocious programming skills and a thousand dollars borrowed from a friend!

We want to say a big thank you to the staff and students of Meridian School for a very successful day.

Comments from the students of Meridian School

"I had a great time trying out all the old technology and even one of the newest. It was amazing to see how technology has advanced over the years. Even though the old games were very simple, they were a lot of fun. Thank you!"

Michael

"I found it an amazing experience. It was fun to learn new things and see how these amazing machines developed through time. It was a fantastic expereince."

Kavan

"Was thoroughly interesting and very informative. Would love for another event such as this."

Callum

"An enjoyable and interesting tour through computing history from past to the future; a fun and intellectual guide."

"I had an amazing time learning about how computers have progressed over the years, and found the guy very interesting."

"It was good to see how computers have changed over the years. The equipment was very good and the person who presented the session had good knowledge of the subject and equipment."




The Centre for Computing History can supply an expert and a range of interactive equipment for whole days or half days at schools. School visits provide multiple learning opportunities and can be tailored to suit your requirements. One visit can potentially cover up to four year groups and has several advantages over taking a group of children out of school, including:


• No need to arrange transport
• No need to arrange additional insurance
• No need to get permission slips in
• No need to get additional helpers to maintain children to adult ratio
• No need for risk assessment visit
• Easy integration into the school day

We are flexible with regard to how long each activity lasts and can tailor the content to fit your teaching periods or suit your requirements.

Media Contact: Elaine Collins
Gold PR Communications for CCH
01787 463256 / 01440 708494



Web Link: www.computinghistory.org.uk

Email Link: elaine@computinghistory.org.uk

Date : 16-05-2012