Project Odyssey…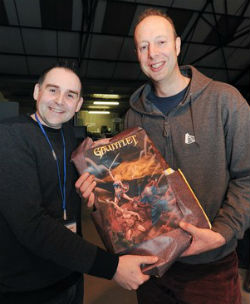 Following presentations from the museum's trustees and the launch of a new fundraising campaign - Odyssey - on 10 March by museum patron Dr Hermann Hauser, Simon Galbraith, CEO of Redgate Software, has thrown down a symbolic gauntlet*.
As the invited audience held their breath, Simon issued a challenge: "Redgate Software will match every pound donated to this appeal, up to £100,000, in the next 30 days."
What's it all about? Well, the Centre is hoping to raise £110,000 to complete the refurbishment of its main gallery and create a new core exhibition – Tech Odyssey: a learning adventure – which will chart the global impact of the computing revolution.
Curator, Jason Fitzpatrick, explains: "In its present condition this building fails to do justice to the richness and variety of our collection. Although visitors can see, touch and use many of the 'superstar' machines of the 70s, 80s and 90s, we lack the funds needed to create an exhibition that charts how each of these computers represents a step towards the small, powerful, multi-purpose devices most of us use today.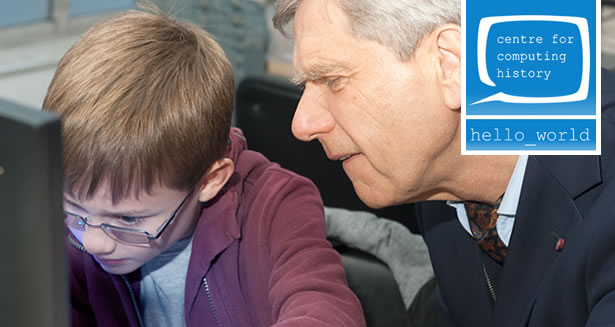 "Refurbishment of the gallery and creation of a new exhibition, Odyssey, will help us tell the inspirational and epic story of the computing revolution to anyone – young and old, techie and non-geek alike."
"We are hugely grateful to Simon Galbraith for this very generous commitment. Redgate Software has presented us with a wonderful opportunity; it's also a big, big challenge. We are very conscious that the clock is ticking…"
Since opening its doors in Cambridge at the end of 2013, the Centre has attracted over 5,000 children. On average, it is visited by one school a week and that number is growing.
If you would like to discuss this appeal further please contact : elaine@computinghistory.org.uk. If you would like to make a contribution please see below for ways to donate.
Thank you so much!
*An oversized mock-up Gauntlet game box.
*First picture courtesy of Cambridge Evening News.
Read the Redgate press release here : http://www.realwire.com

Read the Cambridge Evening News article here : http://www.cambridge-news.co.uk
Be_part_of_our_story...
Since opening at the end of 2013, over 5,000 children have visited the Centre. These children deserve a space which is engaging and instructive, where they can feel a sense of adventure, exploration and surprise!
Please be assured that any amount you feel able to donate will make an immediate and significant impact.

Date : 11-03-2015