Tablet Computing for the Over 50s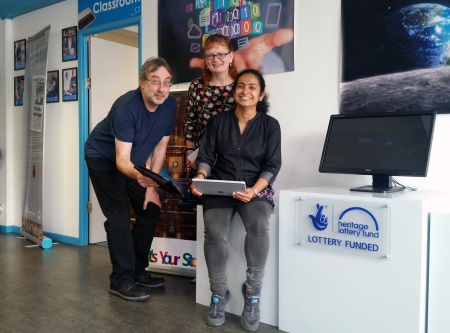 We're running a special workshop on Saturday 9 July for older people who want to find out all about tablet computing. If you're baffled by the complexities of the iPad or Galaxy Tab S2, we could help put your mind at rest.
Centre learning adviser, Chris Monk, who will be leading the workshop, says: "If you're thinking of joining the grandchildren and buying yourself a tablet computer, this workshop's spot on! Definitely for newcomers to the world of tablet computers, it includes lots of ideas and applications for making the very best of your new toy and showing the kids a thing or two."
This event is part of the Centre's Viva Computer! festival. Viva Computer! is a Heritage Lottery funded project to set up a multimedia archive and festival exhibition. It aims to capture and communicate the magic of the computing industry's heritage and history of innovation, with a focus on Cambridge's unique position within it.
As with other festival events, this session is included free as part of the standard admission fee, but must be booked online here or by telephoning 01223 214446.
-Ends-
Note to editors

Centre for Computing History
The Centre for Computing History is a charity and heritage organisation with a strong focus on education. Much more than a museum, it hosts hands-on exhibitions, learning workshops and a wide range of events. Most importantly, it makes the history of computing relevant and fun for all ages!
Located in Cambridge, the Centre's vision is to increase understanding of developments in computing over the past 50 years through exploring the social, cultural and historical impact of the digital revolution.
CCH is an educational charity (1130071) and not-for-profit company, which opened in Cambridge in August 2013. Its core purpose is to increase understanding of developments in computing over the past 60 years by exploring the social, cultural and historical impact of the Information Age. The fast-paced nature of the computing industry, along with its tendency to discard irrelevant technology as soon as it becomes outdated, means that the heritage around its origins and subsequent developments is at risk of being lost. CCH aims to preserve this fundamental part of our heritage and ensure it is valued, celebrated and secured for posterity.
CCH has an internationally significant collection of vintage computers, memorabilia, artefacts, documents and hands-on displays – in total about 24,000 items. The core collection consists of 800 historic computers including an Altair 8800, usually considered the first home computer, as well as mobile phones, games consoles and calculators. CCH is currently developing two new Cambridge-related archives: a Sinclair collection and an Acorn collection. See www.computinghistory.org.uk for more information.
Heritage Lottery Fund
Using money raised through the National Lottery, the Heritage Lottery Fund (HLF) aims to make a lasting difference for heritage, people and communities across the UK and help to build a resilient heritage economy. From museums, parks and historic places to archaeology, natural environment and cultural traditions, we invest in every part of our diverse heritage.
In the East of England, HLF has awarded more than £400m to over 3,500 projects, www.hlf.org.uk.
For further information or images, please contact:
Elaine Symonds
Centre for Computing History
Tel: 01223 214446 M: 0733179293
Email: Elaine@computinghistory.org.uk
Date : 26-06-2016