Celebrating Safer Internet Day with Cambridge's Heritage School
Today, 7th February, is international Safer Internet Day (SID) and the Centre for Computing History has been marking this important, annual event with pupils from the Heritage School, Cambridge.

Safer Internet Day (SID) began as an initiative of the European Union in 2004 and has since expanded globally. From cyberbullying to social networking, each year, Safer Internet Day aims to raise awareness of emerging online issues and chooses a topic reflecting current concerns.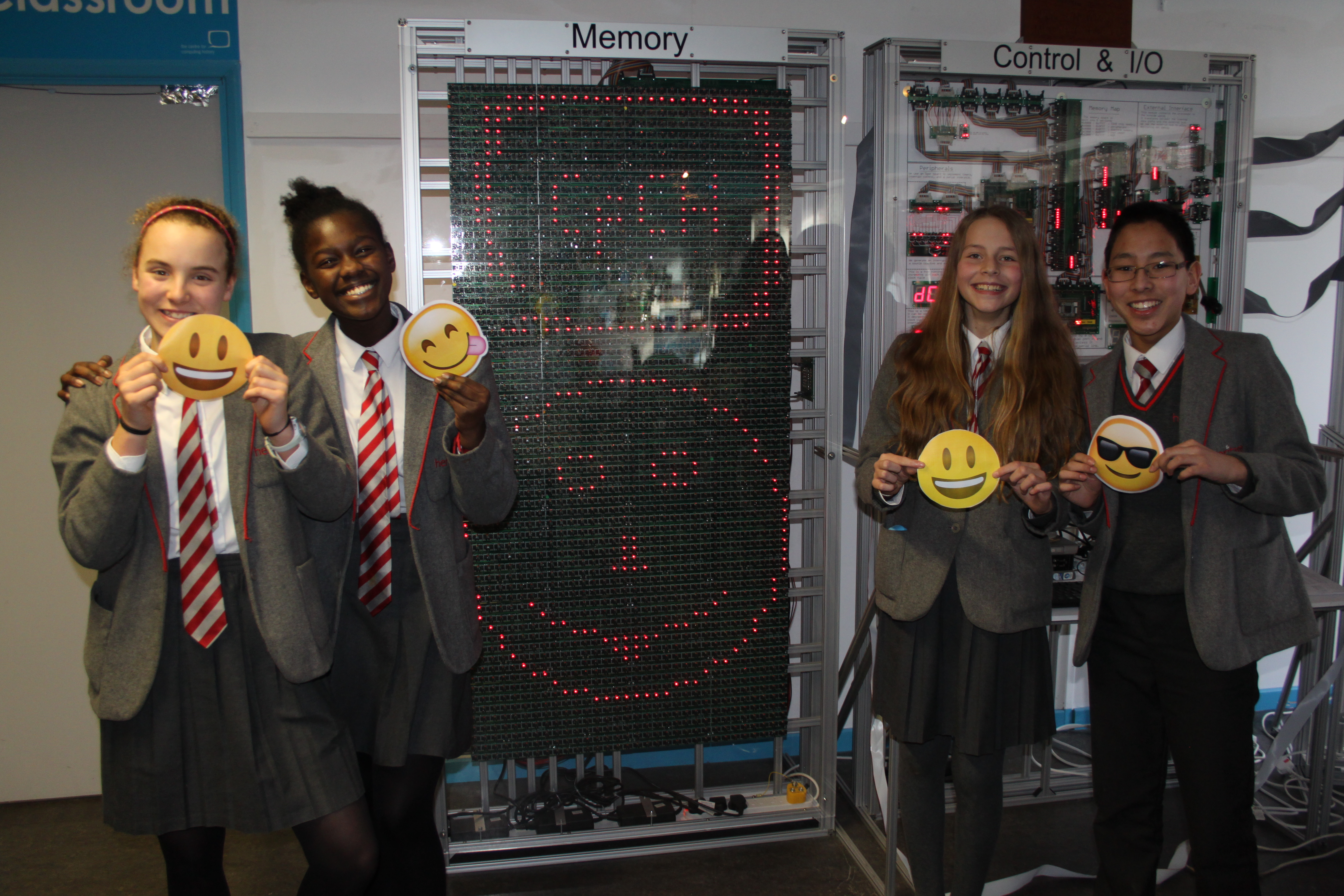 Pupils from Cambridge's Heritage School at the Centre for Computing History
Our Head of Learning, Anjali Das believes a safer internet is everyone's responsibility and that the ultimate aim is to encourage all students to be accountable for their online behaviour and to serve as role models and/or champions for others.

She said: "It's a day on which people and organisations from around the world pledge to promote safer and more responsible use of technology .This year's theme is: 'Be the change: unite for a better internet'. In support the UK Safer Internet Centre has encouraged everyone to make the internet a better place and #giveasmile for Safer Internet Day.
"So we decided to do just that with the help of students from Cambridge's Heritage School and our very own MegaProcessor. Creating those big smiles and posting online was a lot of fun!"

Centre Director, Jason Fitzpatrick said: "Safer Internet Day provides an opportunity for us all to stand together and show what kind of internet we want - where kindness is the norm and everyone is treated with respect."

-Ends-
Photograph: Pupils from Heritage School, Cambridge and the Centre's MegaProcessor #giveasmile for Safer Internet Day.

UK Safer Internet Centre
The partnership of three leading organisations: SWGfL, Childnet International and Internet Watch Foundation was appointed by the European Commission as the Safer Internet Centre for the UK. It has three main functions:
• Awareness Centre: to provide advice and support to children and young people, parents and carers, schools and the children's workforce and to coordinate Safer Internet Day across UK.
• Helpline: to provide support to professionals working with children and young people with online safety issues.
• Hotline: an anonymous and safe place to report and remove child sexual abuse imagery and videos, wherever they are found in the world.
www.saferinternet.org.uk

Five Tips on Creating a Kinder Internet for All
Post positively. We all can make choices to be kinder online and help to create a better internet for everyone.

Think before you post. Remember there's a person behind the screen reading what you post. Even words meant as a joke can be upsetting to others. Using terms that are offensive (for example to someone's disability, sexual orientation or gender) can have lasting consequences on a person's self-esteem.

Don't suffer in silence. Speak to a parent, teacher or other trusted adult if you see or receive any abuse online. Look out for your friends and be there for them in person. If you don't feel ready to chat to an adult, talk to a friend or get in touch with ChildLine online or call 0800 11 11.

Report to social networks and block anyone who is being mean. Social media companies rely on the community to tell them when something isn't right; play an active role as a digital citizen and report anything that you think might break the rules.

Report anything to police that might break the law. Online actions can have offline consequences, and some things you post can even break the law. If you see anything online that you think might break the law then report to your local police or speak to an adult who can help you to take action.

The Centre for Computing History (CCH)
Established in 2006 and based in Cambridge, the Centre for Computing History is a charitable heritage organisation with learning at its heart.

The Centre's core purpose is to increase understanding of developments in computing over the past 60 years by exploring the social, cultural and historical impact of the Information Age. The fast-paced nature of the computing industry, along with its tendency to discard old technology as soon as it becomes outdated, means that the heritage around its origins and development is at risk of being lost. CCH aims to preserve this fundamental part of the UK's heritage and it has an internationally significant collection of vintage computers, memorabilia, documents and an inspiring collection of interactive artefacts.

Much more than a museum, it hosts hands-on exhibitions, learning workshops – it has pioneered the teaching of coding and electronics to both primary and secondary schoolchildren - and a wide range of events to make the history of personal computing relevant and fun for all ages.

www.computinghistory.org.uk
For further information please contact: Elaine Symonds
Email: Elaine@computinghistory.org.uk
Date : 07-02-2017