Guinness World Record for Our MegaProcessor
It's official! Our mighty MegaProcessor has been included in the Guinness World Records, the global authority on record-breaking, as the largest functional microprocessor model in the world.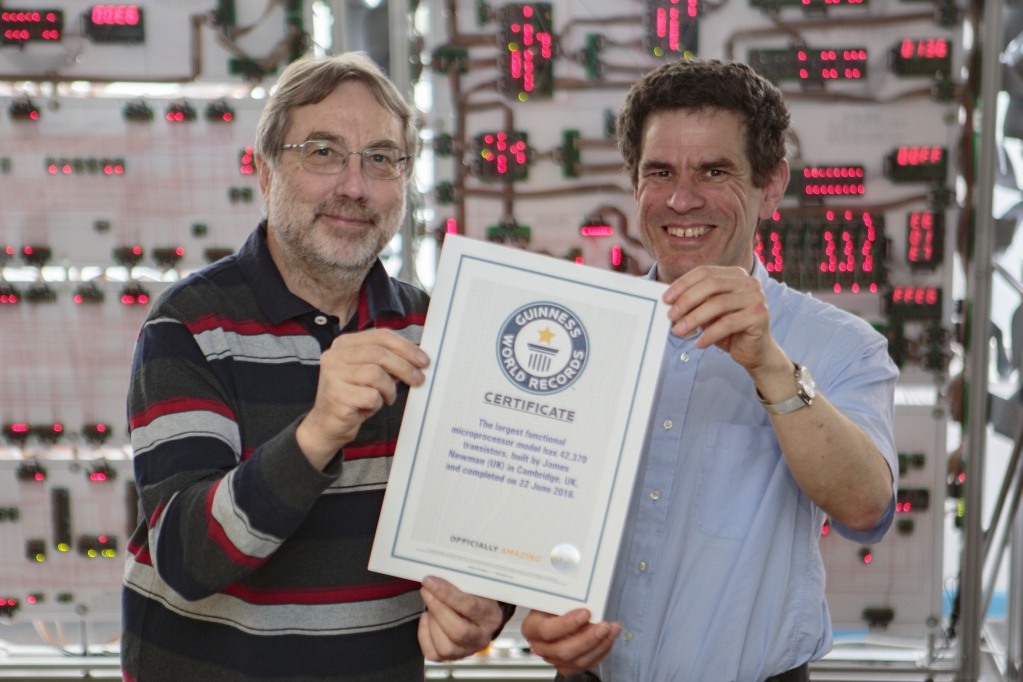 MegaProcessor Creator, James Newman with Chris Monk of CCH Learning Team
This gigantic machine was created by James Newman who donated it to the Centre for Computing History in November 2016. Over 10 meters long and 2 meters high, the machine shows the inner workings of a microprocessor, the tiny chip at the heart of billions of smartphones, laptops, gaming consoles and other electronic devices. It features 12,000 LEDs and 40,000 transistors, with over 250,000 individual solder joints wiring it all up. The LEDs light up at every stage of the computational process to show how data moves through across a CPU as it executes a program.
It took Newman over three years to complete the work and cost in excess of £40,000.

Newman explains: "Computers are quite opaque. Looking at them, it's impossible to see how they work. What I wanted to do was get inside and see what's going on. Trouble is we can't shrink down small enough to walk inside a silicon chip. But we can go the other way; we can build the thing big enough that we can walk inside it.

"I didn't plan on ending up here. I started by wanting to learn about transistors. Things got out of hand!"

Centre Director, Jason Fitzpatrick said: "We are absolutely delighted, both for ourselves and James as its creator, that the MegaProcessor has set a new Guinness World Records title. It's a stunning piece of kit and an educational tool par excellence! Can you imagine how much work was involved in creating it?"

Chris Monk, of the Centre's Learning Team, added: "We are able to use the MegaProcessor as a teaching tool across all age ranges and abilities. Those flashing lights can all be explained as the simple application of logic circuits, doing very mundane things very quickly. Without this kind of creation, most people have no idea what a computer is really doing.

"It's great that we are now able to bring what some people see as 'magic' down to a level that almost anyone can understand."

James Newman will be demonstrating how the MegaProcessor works for visitors at the Centre for Computing History on Saturday 15th April.

-Ends-
Note to Editors

Centre for Computing History
Established in 2006 and based in Cambridge, the Centre for Computing History is one of the most imaginative and ambitious educational museum projects in Britain. Our mission is to tell the story of the world's most important invention – the computer. We work at the intersection of tech innovation and social history. Through interactive displays and exhibitions, our schools programme, learning events and workshops, and an astonishing collection of computers old and new, we help people understand how tech has shaped the modern world and revolutionised the way we live, work and play.
Since opening in Cambridge in August 2013, the Centre for Computing History has made a deep impact on the educational and cultural life of Britain. We've been growing fast and today around 20,000 people a year visit to take part in our learning activities or have fun interacting with the machines in the exhibition spaces.

CCH is currently developing two new Cambridge-related archives: a Sinclair collection and an Acorn collection.
For further information or images, please contact:

Elaine Symonds
Centre for Computing History
Tel: 01223 214446 M: 0733179293

Email: Elaine@computinghistory.org.uk
Date : 14-04-2017