Computers for The IT Crowd Series 4
Vintage Computing Items for the IT Crowd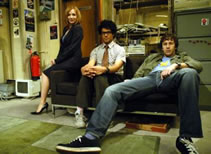 The Centre for Computing History has again been asked to supply retro computer items for the set of the forth series of The IT Crowd.
We have supplied the same set of machines and gadgets as we did for the last series plus some new items ...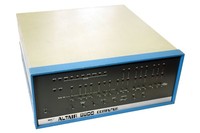 Curator Jason Fitzpatrick said : "Being a bit of a fan of the show, I thought it was a great chance to be involved and help populate the set with some true computing history. The number one item that I thought just HAD to be there was the Altair 8800 computer - widely considered the first commercial personal computer."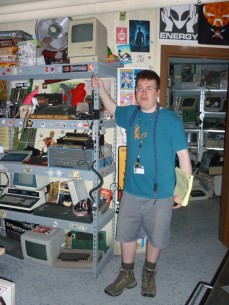 Andy Talyor, Volunteer Co-ordinator for the museum said "The IT Crowd is a great opportunity to raise the profile of the museum. People see the machines on the set and then Google them to find out more about them. Invariably they arrive at our website and if they learn something about computing hsitory all the better."

The image to the right shows the computers on the series 4 set. As you can see for continuity the set has not changed a great deal, but after going to see two episodes being filmed we can assure you that IT Crowd fans will not be dissapointed by the next series! It is VERY funny ...

Look out for 'webby' our little black and white beanie mascot that was behind Moss in the third series. He's there again in the next series!


Other computers on the set include a CGL Sord M5, Oric Atmos, Amstrad CPC 464,

Commodore 64

, a homebrew Sinclair ZX81 (on top of the Altair 8800),

Atari 2600

games console, Commodore PET, Apple Mac Plus,

ZX Spectrum

+2, the main PCB of an Acorn Atom and a

ZX Spectrum

Plus in its original box and various others around the set ...

Picture : Sean, the *real* IT guy for the show stands next to the shelves behind Moss where most of our computers were positioned.



Story By: Jason Fitzpatrick

Date : 15-04-2010