Help Us Preserve Computing History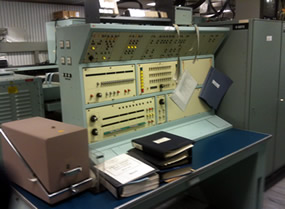 We have
an exciting opportunity
to acquire from the
Ministry of Defence
several computers of
great historical significance
. These computers have been used to train British Navy personnel in warfare situations; many of the machines have been in use since the late sixties!
The equipment includes two Ferranti FM1600's, two Marconi Locus 16's, parts of a Ferranti Argus 700, Paper Tape Punches and Readers, Large Cipher Tape Drives, and even parts from a Sonar display ...
But ... we are unable to avoid buying the equipment through the usual disposal channels. Therefore we have to find

£1800

to buy the equipment and we anticipate a further

£500

in logistics costs :-(
Congratulations! You Smashed It! Thank you to everyone that has donated, tweeted and blogged about our project to save these fantastic machines. We now have enough money to purchase and collect them and we will keep you informed as the project progresses. Once again, thank you ...

However, this equipment is not JUST for The Centre for Computing History. We will be distributing the machines to other computing related museums in the UK. It's a fantastic opportunity for all of us. I hope you feel encouraged to donate knowing that you will be helping three museums save these treasures for the nation!
THIS IS OUR ONLY CHANCE TO OBTAIN THIS EQUIPMENT :-(
You can donate through Just Giving which is a great way to donate to charities as it allows the charity to claim an additional 20% in Gift Aid from the government. Click on the logo to donate now ...

Alternatively, you can donate through our Paypal account ...
Money Raised So Far : £2436.50
Mission Started : 14:14 - 12/10/2011 Last Updated : 10.29 - 20/10/2011
This total is manually updated, please bear with us...

By the way,
if you're not already, please follow us on Twitter and I'll keep you posted on how the fund raising is going ...
Wouldn't it be great to know you played a part in saving this computing history? Please donate whatever you can ...
... and don't forget, for this to work we
need
to get the message out there ... blog about it, send a link to the press, tweet it again, facebook it, print it out and put it up on the wall of the office canteen (old school social marketing still works!)
Thank you
Jason Fitzpatrick
Chief Geek - The Centre for Computing History
Registered Charity No. 1130071


Want to know more about The Centre for Computing History?

The museum vision brochure is available to download as a PDF document. Please click on the image to the right to view it in your browser. [ 4.2Mb ]




As usual, a thank you to our corporate sponsors, who have helped get us to a position where we can proactively preserve computing history ...

If YOU have donated tell everyone on our message board below ...