Revival - Retro Video Gaming Event
---
The Centre for Computing History will be displaying some of its great gaming collection at the retro gaming expo - Revival this May.
We'll be bringing some classic gaming systems, plenty of games and some of the rarer systems from around the world. We'll have a LAN based DOS gaming system and so much more.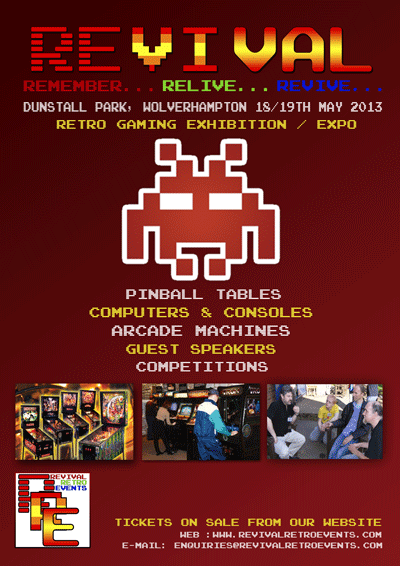 Revival – Retro Expo Event
Saturday 18th May 2013 to Sunday 19th May 2013
Revival is an all new annual 2 day retro gaming event due to kick off in 2013, promising countless arcade machines, pinball tables, pachinkos, consoles and the chance to meet some gaming celebrities.
This upcoming event is being put together and led by both Turnarcades, the custom arcade machine manufactures, and the brains behind the Retro Fusion magazine.
The duo are promising nothing but retro gaming at Revival, hoping to lure in the die-hards from around the country disheartened by the sight of modern consoles.

Taking place in Wolverhampton Racecourse on the 18th and 19th of May2013, the event will feature free to play arcade machines and pinball machines,consoles and computers from years gone by, and even a section dedicated to thehomebrew community.
But more interestingly Revival has promised retro gamers the attendance of several heroes from our gaming past such as the Dizzy creators, the Oliver Twins, are-union of Ocean Software employees, Archer Maclean and Mike Montgomery fromBitmap Brothers to name but a few. These heroes of yesteryear will be participating in talks as well as challenging the event visitors to a game or two of their favourite games.
Tickets : £13.00 for Saturday only, £13.00 for Sunday only and £20 for both days.