The Centre for Computing History offers an exciting range of services for schools appropriate for students aged 11 to 18 years.

School Visits
We can supply a technology expert and a range of interactive equipment for a one day presentation / workshop at your school. A school visit provides multiple learning opportunities and can be tailored to suit your requirements, potentially covering up to four year groups. Although we always encourage schools to visit the museum in Cambridge, as nothing beats that experience, there are some advantages in our educational team visiting your school, including:
No need to arrange transport

No need to arrange additional insurance

No need to get permission slips in
No need to get additional helpers to maintain children to adult ratio
No need for risk assessment visit
Easy integration into the school day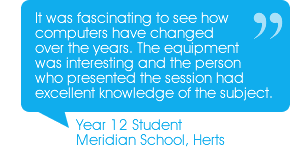 Our visits are themed into the following subjects :
The Dawn of Home Computers
This course includes an informative 30 minute presentation and a challenging interactive session where students gain hands-on experience of a range of home computers from the late 70's and 80's, including the Sinclair Spectrum and
BBC Micro
. We explore how computers have infiltrated our everyday lives and how they have become more and more portable. Finally, we encourage students to speculate on what the future may hold ...
We bring a number of specially modified
BBC Micro
computers to your school and set them up ready for students to explore the basics of computer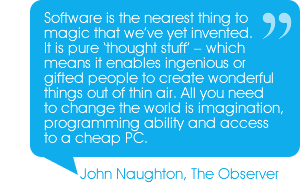 programming. Using the tried and tested BBC BASIC language, students will be taught to write and understand simple computer programs. Crucially, they will learn how to break down a problem into logical steps.
Explore the UK as it was in the mid-eighties using the iconic computer of the eighties! The BBC
Domesday System
presents thousands of pictures and descriptions of everyday life in the UK. It has interactive video, newsreel footage and information about practically every town and village in the UK. We will bring an original
Domesday System
to your school, along with our exclusive PC based version, allowing all children to use the original system and make comparisons with our modern equivelent.
You choose the subject which best fits your curriculum needs; we are flexible in our delivery and can tailor it to suit any special requirements. We will arrive at your school in the morning and will be available to fit in with your classes throughout the entire school day.

Prices
The cost of our school visits depends on your location (distance from us) and any specific requirements you may have. We are keen to integrate our visit with your curriculum as much as possible. Please email
education@computinghistory.org.uk
or call us on 01440 708494 for further information.
Practical Points
We will need about 1 hour 30 minutes to set-up the computers and about 1 hour to pack them away again at the end of the day. We will require one room for the duration of the day (it is not easy to move the computers around). We will also need at
least 5 mains plug sockets and 10 clear desks. All of our equipment and cables are PAT tested.
Learning Boxes
Why not add a new dimension to your lesson plans with our Computing History Learning Boxes? These popular resources are packed with items that help children understand the changes in computing technology over the past 40 years.
Our learning boxes are delivered by courier in a convenient case that can be easily packed away and returned at the end of the term.
If your school is too far away to make our visit cost effective our learning boxes are a great alternative. They will introduce some 'real' vintage computing items into the lesson. Each box includes a
BBC Micro
computer - specially modified to work with a modern LCD television - software, original magazines and more ...
Learning box prices start at £160.00 depending on your location within the UK.
Please email
education@computinghistory.org.uk
or call us on 0844 357 57100 to find out more about our learning boxes.
Would you like to be kept informed?


Just join our education mailing list and we will update you as and when ...