Computing Games written by Spike
The following is a list of Computing Games written by Spike in the Centre for Computing History collection. It is not an exhaustive list of and other games may have been published. If you have any games or software that you would like to donate to our collection, please view our donations page.
There are
3
Computing Games written by Spike in our collection :
Date: 2006
Dragonball Z Budokai Tenkaichi 2
Software House: NAMCO BANDAI
Author: Spike
Platform : Sony Playstation 2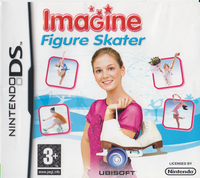 Date: 4th March 2008
Imagine Figure Skater
Become a gold-medalist skater! Enter a fantasy world of twirls, jumps, music, fashion and fun competition
Date: 21st October 2002
Riding Spirits
Redline your engine and get your heart racing!
Software House: Bam! Entertainment
Author: Spike
Platform : Sony PlayStation 2