Acorn Collection Donated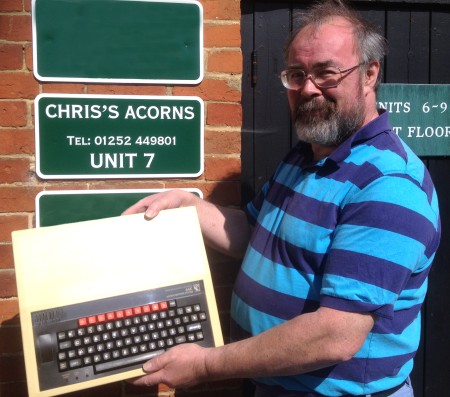 Many Acorn enthusiasts will know the website created by Chris Whytehead that details a vast collection of Acorn and Acorn related hardware. It has become the 'go to' site for anyone wanting to identify a specific piece of Acorn Hardware and contains a wealth of background information that will keep you reading for hours!
The site is the web facing representation of a truly exceptional collection of hardware, software, documentation and ephemera housed in an inconspicous business unit in Fleet, Hampshire.



Chris himself has become very well known and respected within the Acorn collectors community and has attended many Acorn and RISC OS events around the country.

After many years of collecting and cataloguing, Chris has decided the time is right to move the collection to a new home where the items will continue to be preserved and further documented.

It took two Luton vans to move the collection from Fleet to Cambridge where it is now being merged with the existing collection. The website will also be preserved and hosted on a sub-domain of the computinghistory.org.uk site.

See : chrisacorns.computinghistory.org.uk


Chris chose the Centre for Computing History and we are honoured that he did. Our existing Acorn collection was very comprehensive and now, with Chris's items too, we are convinced that the Acorn collection housed at the museum in Cambridge is possibly the best in the World.

Chris said "Once I had decided to dispose of my collection I had a choice sell it or donate it. Selling it would have dispersed the collection if sold via ebay or similar site and a lot would be left unsold, whereas a single sale would present difficulties in realising the value due to the size and scope of the collection. Besides selling the collection risked the new owner dispersing it at some stage. Once I had decided to donate it the issue was to whom. I wanted the collection kept together as there basis for a reference collection of Acorn products also wanted the collection used and not just stored and the website maintained. The CfCH was the obvious choice because I knew of their work taking computer out to schools and promoting interest in the history. I was very happy when Jason accepted the donation."


"

But we don't have everything

" said Jason Fitzpatrick, Director of the museum, "We now have a first class physical display of equipment and documentation, but we'd really like to add stories to the collection. We want to interview people that worked at Acorn to get the background information that will help us preserve
the history of this groundbreaking British company".

The collection is now housed in Cambridge at The Centre for Computing History and is being catalogued into the existing collection see :

http://www.computinghistory.org.uk/det/33439/chris-s-acorns---the-chris-whytehead-collection/


Date : 12-05-2014